/ CERTIFICATE of GENUINENESS
[for german version please scroll down]
A Certificate of Genuineness authenticates the genuineness of an art-work
and is to certify that the art-work has been evidenced for certification.
WHY THIS?
Contemporary artproductions especially in the segment of media-, net-, concept- and RAM-art are not rarely characterized by
- complexity
- processuality
- unseclusiveness
- context-inclusion
- artdiscourse-linking
Even these are not necessary conditions, it reveals, that materials shown in exhibitions frequently are just deductions of the artwork and therefore insufficient for a judgement. In this sense the CoG is a preventive protection procedere.
Artworks holding a GeheimRat CoG are classified in
art-for-better-life
_categories →
_01 art activate processes
_02 art produce impurities
_03 art ask controverses
_04 art take stand
_05 art break rules
_06 art prove attitude
_07 art set meanings
_08 art guarantee insight
_09 art open visions
_10 art manage changes
Completely it looks like this →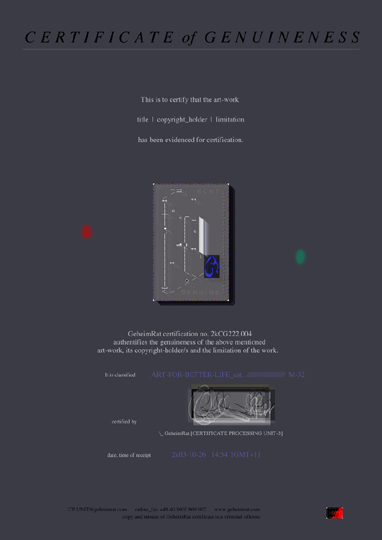 Certificate of Genuineness#no.2k599999
© GeheimRat, 2003
digital, 29,7cm width * 42cm height (11.69" * 16.53")
THE PROCEDERE
1. Send an email with supporting documents about your work together with name and contact-details of the author(s) and the curator to the
certUNIT
2. The certUnit will first check the completeness of the documents.
3. The certUnit will then ask the curator to make a personal evaluation of the work concerning the art-for-better-life theses.
4. The received evaluation of the curator will be scaled with an evaluation by the certUnit and will result in a total evaluation.
5. On this basis the Certificate of Genuineness for your work will be produced and sent to you by email.
6. The received documents plus a copy of the CoG will be stored in a specific database.
... AND A CONCRETE
EXAMPLE
/ CERTIFICATE of GENUINENESS [CoG]
Ein Certificate of Genuineness verbuergt die echtheit eines kunstwerkes
und attestiert, dass das kunstwerk durch geeignete belege zur zertifzierung vorgelegt wurde.
WARUM DAS?
Aktuelle kunstproduktionen insbesondere aus dem medien- und netz- und konzept-kunstbereich sind oft gekennzeichnet durch
- komplexitaet
- prozessualitaet
- unabgeschlossenheit
- kontexteinbeziehung
- kunstdiskurs-anbindung
Auch wenn dies keine notwendigen bedingungen sind, so macht es deutlich, dass in ausstellungen gezeigte materialien haeufig nur ableitungen des werkes darstellen und fuer eine beurteilung unzureichend sind. Das CoG stellt somit eine praeventive sicherungsmassnahme fuer eine arbeit dar.
Kunstwerke mit einem GeheimRat Certificate of Genuineness sind klassifiziert nach
art-for-better-life
_kategorien →
_01 kunst aktiviert prozesse
_02 kunst produziert stoerstellen
_03 kunst fordert kontroversen
_04 kunst bezieht position
_05 kunst bricht regeln
_06 kunst beweist haltung
_07 kunst setzt bedeutungen
_08 kunst garantiert erkenntnis
_09 kunst eroeffnet visionen
_10 kunst schafft veraenderung
Vollstaendig sieht es etwa so aus →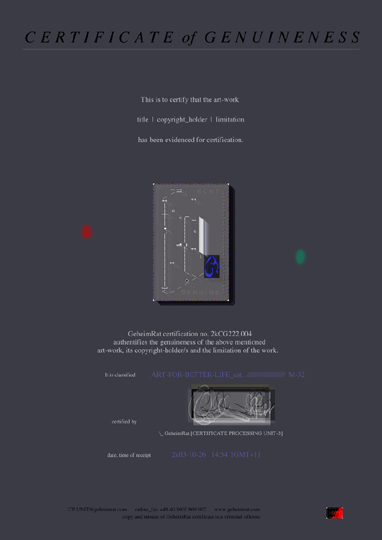 Certificate of Genuineness#no.2k599999
© GeheimRat, 2003
digital, 29,7cm width * 42cm height (11.69" * 16.53")
DAS PROZEDERE
1. Schick/t eine email zusammen mit belegen ueber deine/eure arbeit, kontextinformationen wie etwa einordnung in aktuelle oder historische kunst-diskurse, namen und kontaktdaten de(s/r) autors/en sowie entsprechend de(s/r) kurator(s/in) an die
certUNIT
2. Die certUnit wird zunaechst die vollstaendigkeit der belege pruefen.
3. Die certUnit wird dann per email die/den kurator/in zur abgabe einer bewertung entsprechend der art-for-better-life thesen fuer die arbeit bitten.
4. Die bewertung des kurators wird mit einer bewertung durch die certUnit zu einer gesamtbewertung vermittelt.
5. Auf dieser basis wird das Certificate of Genuineness fuer diese arbeit erstellt und per mail an dich/euch versendet.
6. Die eingereichten belege werden zusammen mit einer kopie des CoG in eine datenbank aufgenommen.
... UND EIN KONKRETES
BEISPIEL
[for english version please scroll up.]