/ reentry193301
homage to marcel duchamp and george spencer brown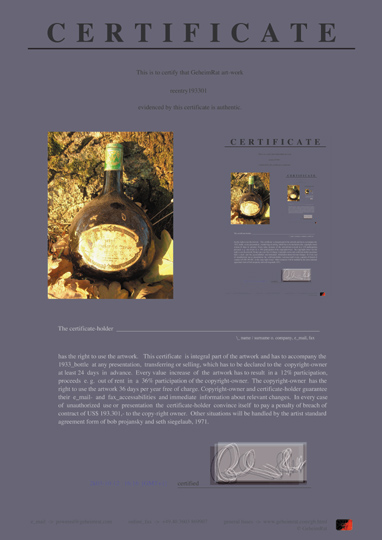 © GeheimRat | 2003
mixed media, integral parts: boxbeutel 1933, certificate.
Bottle and certificate are performing an artistic unit.
The bottle is a 'boxbeutel', so called by the traditionel shape of the bottle, produced in Unterfranken, distributed by the 'Wein Verkaufs-Gesellschaft Berlin' with the name '...orferfuerstenber...' in the world historical year
1933
.
sizes of bottle: 21.85cm height * 14.5cm width * 7.4cm depth (8.6" * 5.7" * 2.91"). diameter of bottle-neck: 2.9cm (1.14")
colour of bottle: green.
unopened bottle.
In tradition of conceptual art certification is a relevant artistic operation for the dematerial dimension of art.
The certificate is integral part of the artwork and describes the rules and the relations of work and context.
size of certificate: 42cm height * 29.7cm width (16.53" * 11.69")
digital colour print.
solo-exhibitions:
san jose, california 95125, 2145 hamilton avenue
2004-03-11 til 2004-03-18
curator: artlabor : for communication of contemporary art
paris 75018, 24 rue marc seguin
2004-08-11 til 2004-08-21
curator: artlabor - for communication of contemporary art
bern 3005, helvetiastr. 15-17
2004-09-09 til 2004-09-19
curator: artlabor - for communication of contemporary art